---
3 à 4 fois sans frais ou jusqu'à 48 fois possible
Delivery 48/72h
2 year warranty
Benefits of Inöe Sweemie
Excellent build quality (only the brake cable is visible)
Highly waterproof for driving in the rain
Very comfortable with its front suspension and 10 inch air tyres
Presentation & data sheet
In stock. The Sweemie 2 comes with a Weebot carrying case and 2 free inner tubes. 
Description of the Inöe Sweemie 2 Electric Scooter
The Inöe Sweemie revolutionizes the electric scooter market with an IPX7 certified battery that allows it to better withstand the rain. The Sweemie was designed for urban users who want to move in comfort with its 10-inch inflatable tires and large front shocks.
In every way better than its great rival, the Ninebot Max
With a top speed of 40 km/h and a range of 45 km, the Inöe Sweemie is made for demanding riders who don't want to be afraid to ride in any weather. This rugged electric scooter is especially tough to handle in the city.
With a modern design and no visible cables (only the brake cable comes out of the handlebars), the Inöe Sweemie is equipped with large 10 inch inflatable wheels . At the front these are inflatable to bring comfort and precision to your riding. At the rear the 10 inch tyre is solid to reduce the risk of punctures. The best of both worlds on this robust electric scooter.
What is new about the Sweemie 2 compared to the Sweemie 1? 
Our team has made significant changes to the product: 
- A new controller allowing to reach a top speed of 40 Km/h.
- Two NFC cards in key ring format to unlock your vehicle.
- 2 inner tubes (Value 39,80€) offered directly in your package.
- Weebot empty bag (29,90€) offered in your package.
A rainproof electric scooter (IPX7 certified battery)
The great advantage of the Sweemie is its very high water resistance. Inöe's electric scooter is able to run completely under water for a few minutes. Of course, we don't advise you to do this in order to maintain the efficiency of the vehicle. But the Sweemie is highly resistant to water intrusion, both on the motor part (ipx6) and the battery part (ipx7).
The Sweemie is as robust as a self-service scooter and can be used in all types of weather, starting with rain. Where most of its urban rivals can't go, because the battery will oxidise over time.
500W Brushless motor developing 750W peak
The Inöe Sweemie electric scooter propels you at a top speed of 40 km/h and has a range of 45 km.
This power is delivered by a 500W brushless motor located in the rear wheel and fully protected. This motor module is designed to be fitted with flashing rear lights (handlebar mounted) to give you a clear view of the road.
The maximum speed can be adjusted directly from the control screen on the handlebars. The Inöe Sweemie has three riding modes ranging from 10km/h to 35km/h.
Capable of deploying 750W in peak, the Sweemie offers a battery Lithium-Ion 36V 13Ah (IPX7) allowing to ride on a maximum distance of 45km . The slopes up to 25% are thus completely crossable. The battery can be recharged in 4 hours with the charger provided with this resistant electric scooter.
Comfortable ride with wide front suspension
With a double-sprung front fork and the combination of the 10-inch air tyre, the Inöe Sweemie is a joy to ride no matter what the road conditions. The city is no match for it and even country roads can be taken without risk.
The Sweemie electric scooter is equipped with a drum brake at the front for good braking distance. This is combined with the regenerative brake (E-ABS), which is activated when the brake handles are depressed and allows a reverse current to flow through the motor. This gently slows down the motor and at the same time recharges the battery while you are on the move.
The Inöe Sweemie is equipped with a set of LED lights at the front of the handlebars (1.1W) as well as dual lights at the rear on both sides of the engine. It should be noted that the brake light flashes when braking to signal to others on the road that you have braked.
Finally, the rear wheel is topped by a 180° mudguard for optimal splash protection.
Features of the Inöe Sweemie 2 Electric Scooter

Top speed: 25 km/h (40 km/h on private roads)
Autonomy: 45 km (Eco Mode)
Recharge time: 4 hours
Authorized weight: 120 kg
Security: 2 NFC cards provided with your product to start the scooter
Extras: Weebot bag included, 2 extra tubes included in your package.
Weight: 22 kg
Wheel size: 10 inch inflatable (10 x 2.5) front and full rear
Tyre inflation: 3.1 bar
Motor: 500W Brushless (750W peak)
Slopes: 25%.
Headlight: Front 1.1W at handlebar level. Rear with dual brake lights
Battery: Lithium Ion 36V 13Ah
Dimensions unfolded: 115 x 45 x 119 cm
Folded size: 115 x 45 x 62 cm
Front drumbrakes + E-ABS
Dual frontsuspension
Protection rating: IPX7 for the Battery and IP55 for the Display
Colour: Black
Warranty: 2 years parts and labour. (1 year for the battery)
Weebot delivers its products all over the world with its partners.
The delivery time for Express is 3-4 working days from dispatch of the package and 5-7 days (indicative) for international delivery. 
For scooters and motorcycles, the administrative procedures can extend the delivery time.
Free delivery from 190€ of purchase for France (Excluding scooters and motorcycles 🛵).


Delivery in France 🇫🇷

:
From 0 to 21€ : 4,90€
From 21€ to 49€ : 5,90€
49€ to 190€ : 7,90€
More than 190€ : Free


Delivery Belgium 🇧🇪, Germany 🇩🇪, Luxembourg 🇱🇺, Netherlands 🇳🇱 : from 19€ à 49€


Delivery Italy 🇮🇹, Portugal 🇵🇹, Spain 🇪🇸, United Kingdom 🇬🇧, Greece 🇬🇷, Sweden 🇸🇪, Ireland 🇮🇪, Finland 🇫🇮, Denmark 🇩🇰, Austria 🇦🇹 : from 24,90€ à 89€


Delivery Switzerland 🇨🇭 : from 29€ to 299€.


Delivery rest of Europe 🇪🇺 : from 49€ to 299€.

Delivery rest of the world 🌎 : From 59€ to 900€ depending on the product.

Exclusive Livraison DOM-TOM : Guadeloupe 🇬🇵, Martinique 🇲🇶, Réunion 🇷🇪, Mayotte 🇾🇹
De 0 à 99€ : 39€ (Livraison Express)
De 100€ à 399€ : 99€ (Livraison Express)
De 400€ à 999€ : 199€ (Livraison Express)
Plus de 1000€ : 400€ (Livraison au port)

For Corsica and abroad, shipping costs may be applied in addition on a "free delivery" operation or readjusted according to the volume/weight of the product. 


For electric scooters and motorcycles, a set-up fee may apply. 


Our partner of payment in several times can potentially need additional parts to validate the order, it can therefore, as rare as it may be, extend by 48 hours the time before shipment. 
For any product purchased from Weebot, you will receive our premium after sales service for 2 years.
An after-sales service close to its customers to answer all your questions, by e-mail, by phone, as well as in our shops in Paris, Lyon and repair workshop in Boulogne-Billancourt.
We are in permanent contact with all the parties necessary for the good after-sales service of our customers' products.
This allows us to ensure a personalised follow-up and a quality treatment of the various problems.
Our leitmotiv: to reduce the processing time in order to offer a fast and efficient quality of service.
Then enter the world of Weebot After Sales Service Weebot's services include: personalised care, committed customer service, dedicated customer care and technical expertise.
Customer reviews
Customer opinions
Écrire un Avis
Poser une question
03/06/2023
Carlos N.

France
Sweemie 2
Bonjour, colis très bien emballé, produit très bien protégé, produit avec une superbe finition le montage du guidon à la colonne de direction par 6 vis à tête fraisé est parfaite, le produit est superbe = pas encore essayé, petit bémol je n'arrive pas à scanner le QR code pour avoir accès à la fonction sur smartphone , ma première inpression très beau produit reste à le tester. Mr Neves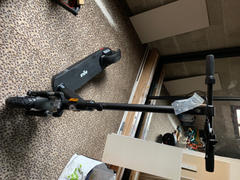 02/19/2023
Pascal V.

France
Excellente mais...
Je l'utilise pour la livraison des journaux très tôt le matin(vers 4h00) et par conséquent l'éclairage est primordial : elle est parfaite pour cela. Je l'utilise en mode débridé et dispose d'une autonomie de 20km avec quelques pentes à 10/12% qu'elle franchi à 20km/h en début de charge et plutôt vers 14km/h en fin de tournée. Plus qu'acceptable ! Seuls bémols : le verrou du guidon s'est une fois débloqué en route après plusieurs centaines de mètres parcourus...pas passé **** de la cata...Il faut vraiment s'assurer qu'il soit complètement engagé, ne vous contentez pas du bruit du clic(surtout de nuit !) Le freinage manque quelques fois de progressivité ce qui peut être gênant dans les descentes...
02/16/2023
Sam P.

France
Good product
Depuis une semaine que je l'utilise, j'en suis très satisfait. Petit bémol sur l'autonomie qui n'est "que" de 20km en mode sport. À part ça j'en suis très content pour le moment.
02/10/2023
Boualem

France
Merci weebot
Alors moi agréablement surpris livraison rapide que dire la trottinette correspond à ce que le service client m'a décrit ; elle monte les côtes assez facilement faisan 95 kg , c'est ma première trottinette et ben je me sens à l'aise dessus et en sécurité , l'application qui est utilisable en bluetooth c'est top , encore merci au service client weebot car ça correspond exactement à mes attentes.( je ne suis pas soudeur mais je trouve qu'elles sont jolies)
02/09/2023
Jeandu60

France
Tro bien je recomende
Patinette super je recomende
Methods of payment
Your payment information is managed securely. We do not store or retrieve your credit card number.
---
Security
You have recently consulted